Mirren's Walk Down Memory Lane.

Today I'm going for a walk. When I was a teenager this was a walk my pal Anne and I would do on Sunday evenings, that's if it wasn't pouring. Enthusiastically the two of us, dressed in our proverbial Sunday best would make our way to the top of Copland road then turn left into Paisley road west. From there we'd then continue but we weren't walking aimlessly, we were going on a talent hunt! Our destination was Cardonald, which at that time was a popular haunt for the teenagers. Many times over those past years the two of us, still best friends, have relived these happy Sunday nights by doing this walk however today armed with my camera I've set off on my own.

Copland Road, Govan.




Making my way from the Govan end of Copland road, where I once lived, I pass the subway .

Ibrox Subway Station.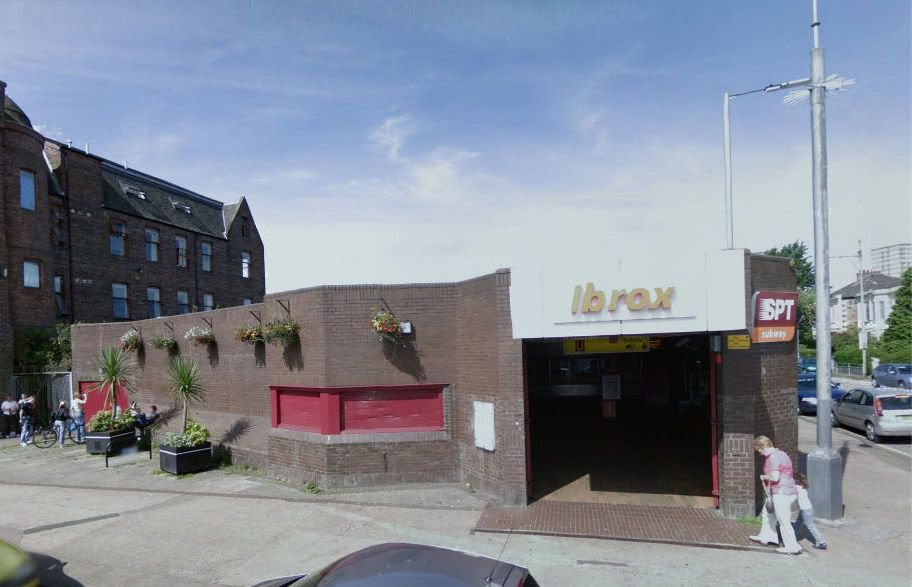 The station, once known as Copland Road is now called Ibrox.

Ibrox Football Ground.




Further on I come to Edmiston drive.





To my right, stretching far along the drive is Rangers football stadium. Across the road and meeting Copland road at an angle is Harrison drive. ( now Hinshelwood drive) There's a wee park there that's if you could call it a park.





Fenced off, there's really nothing to it other than some trees and an old public drinking well.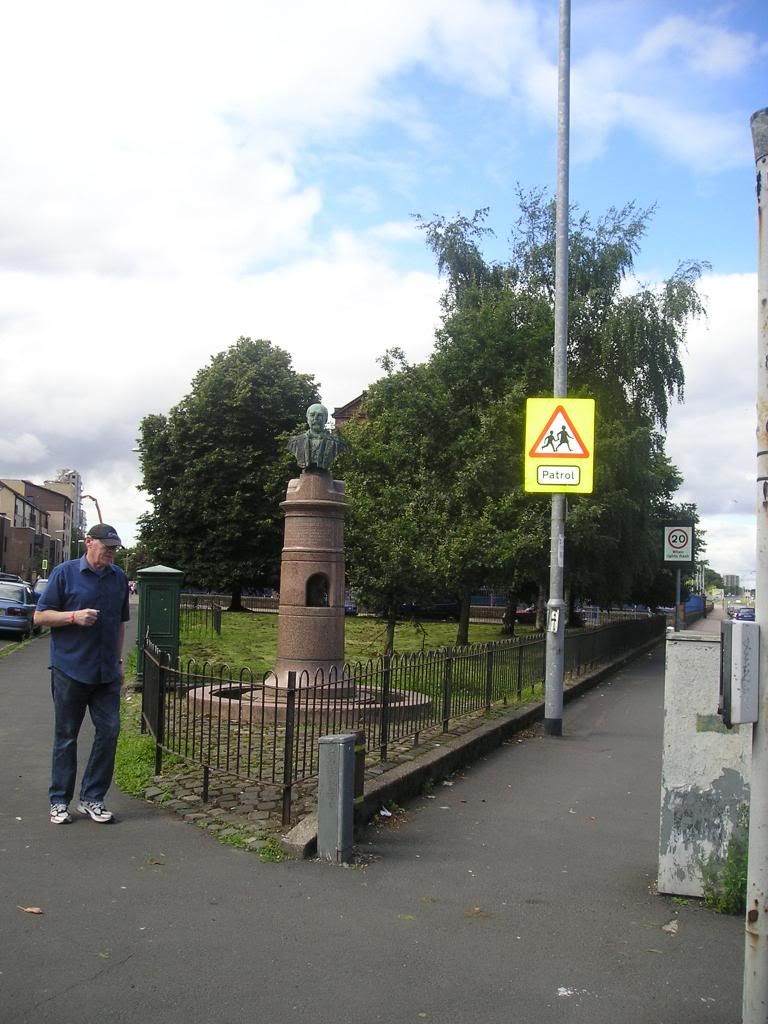 On the top of it is the bust of a man. Reading the inscription it appears that years ago he was a highly acclaimed doctor. I did look at his name and said it a dozen times but still, but by the time I got home I'd forgotten it!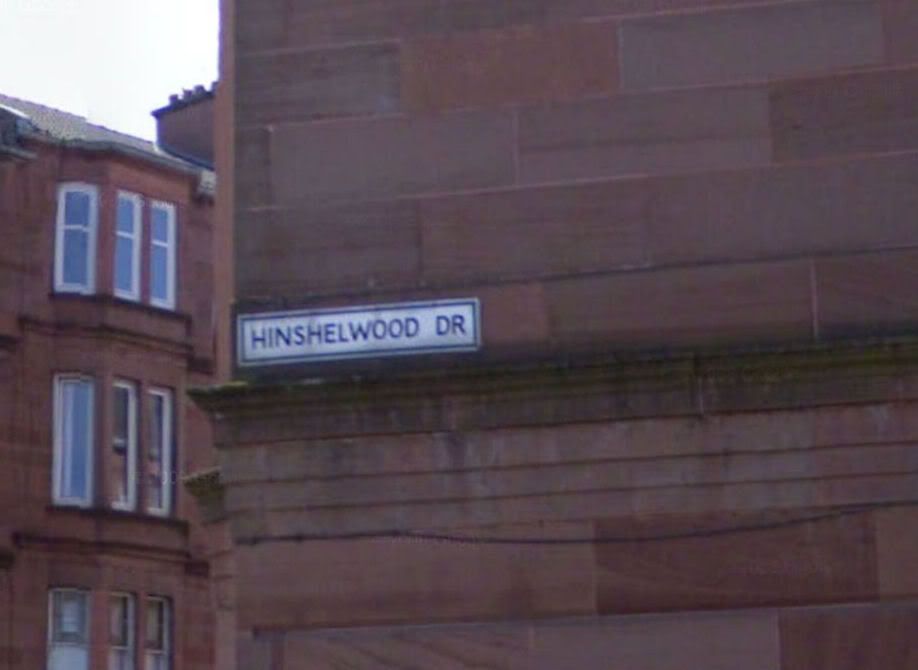 When I was young girl playing in the streets of Govan I used to go to this wee park. Then it was known as the Bumbee . The well was there, but there were no trees. Then it was nothing more than an unfenced grassy mound and even then the grass was sparse.

Sometimes during the school holidays when we got bored playing in the street, I with other street urchins would set off for a picnic to the Bumbee. Everyone had more or less had the same delicacies, a piece on jam and a bottle of water. There was no fruit shoots, crisps or chocolate biscuits in these days! As soon as we got there we'd sit on top of the mound, eat our piece, drink our now warm water then realizing that there we'd have much more fun playing in our street and back courts, we'd go home again.

Leaving the Bumbee behind I get on my way again.





I'm now in what was always known as the posh end of Copland Road. Well you can't argue with that. The tenements do look good, don't they?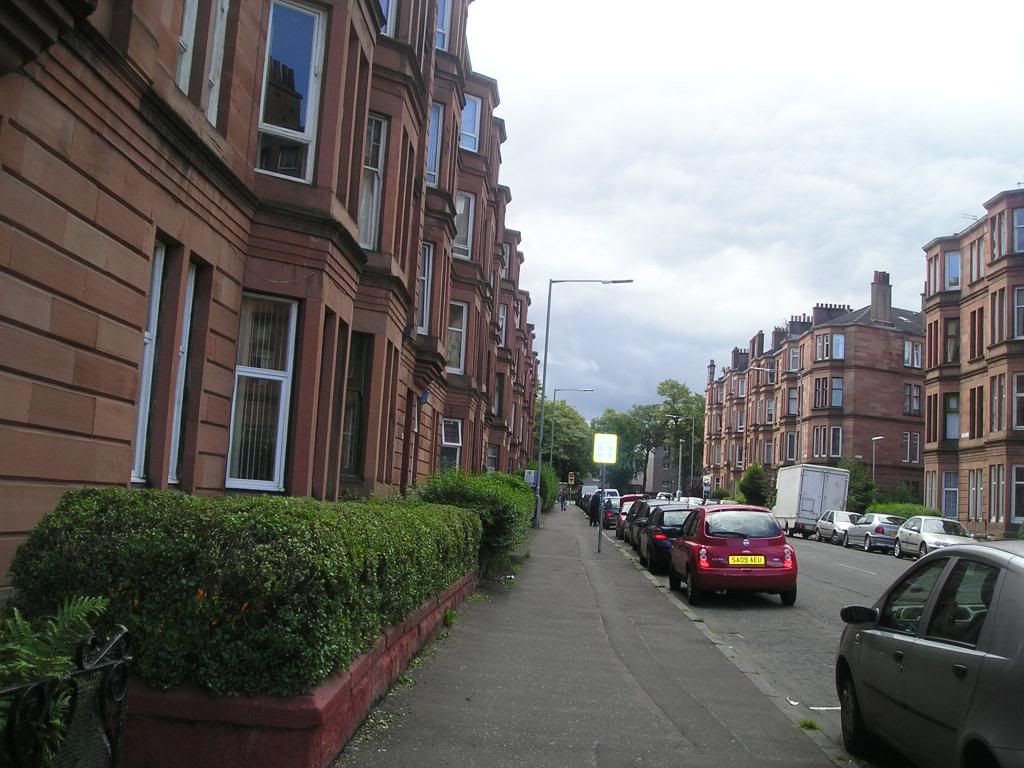 Reaching the top of it I turn right into Paisley road West and cross.





Now on the left hand side of this busy road I carry on walking until reaching the corner. Here it's a busy intersection with Broomloan road and Dumbreck avenue meet Paisley Road West .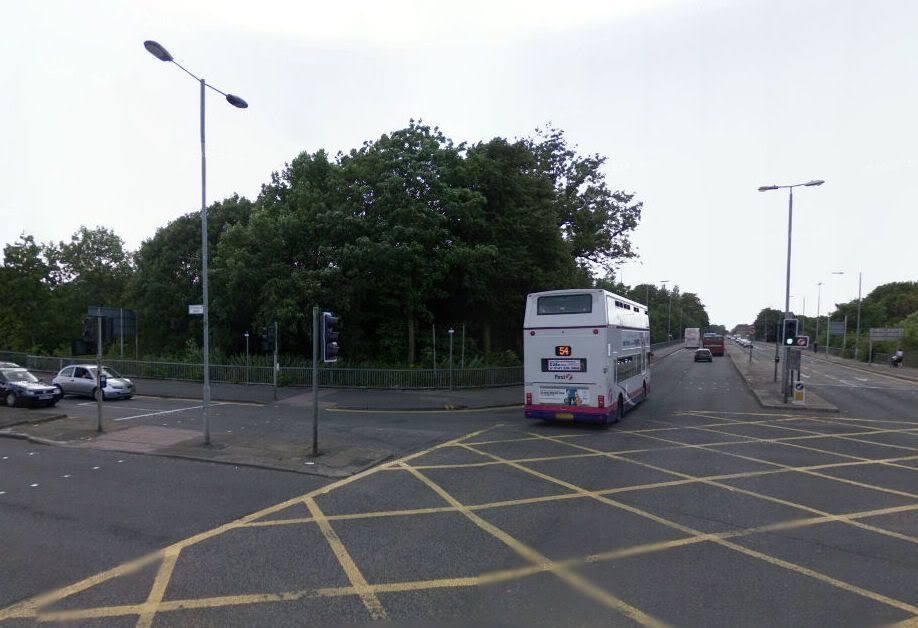 Crossing at the traffic lights takes me to another corner. Years ago when I lived in Govan, there was a gate into Bellahouston park here .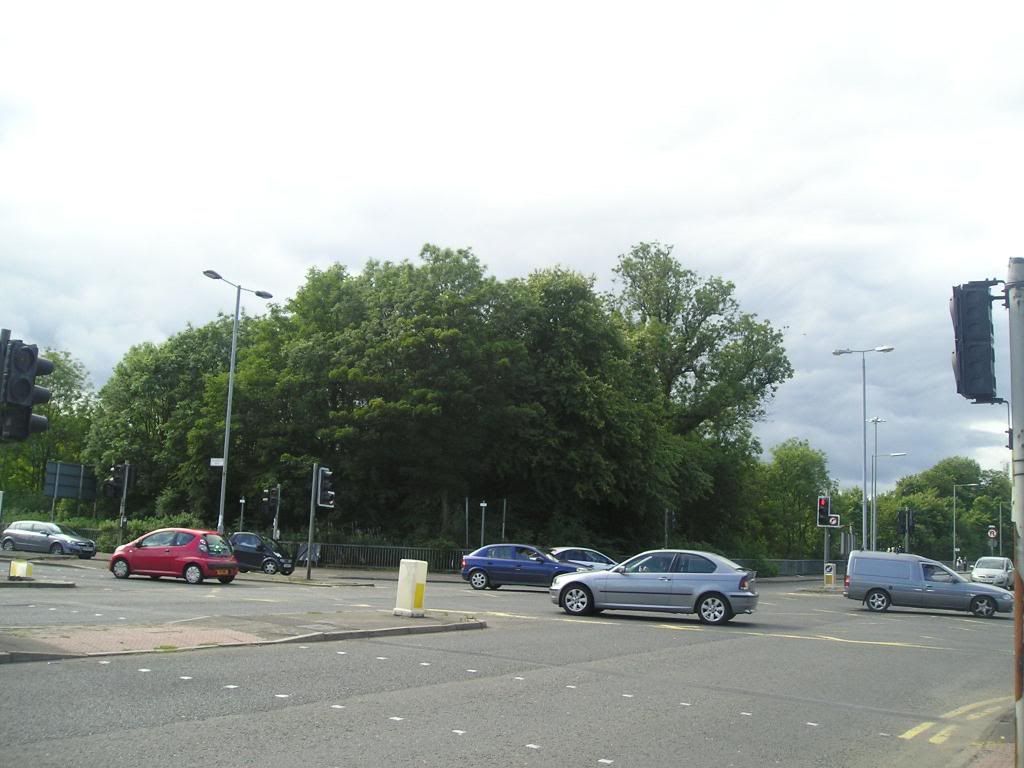 Now there are trees. Sadly along with a chunk of the park it has gone.





In the construction of the nearby M8 both have been sacrificed. Not only does the motorway run close by, it actually passes within a few yards ahead of me under Paisley road west.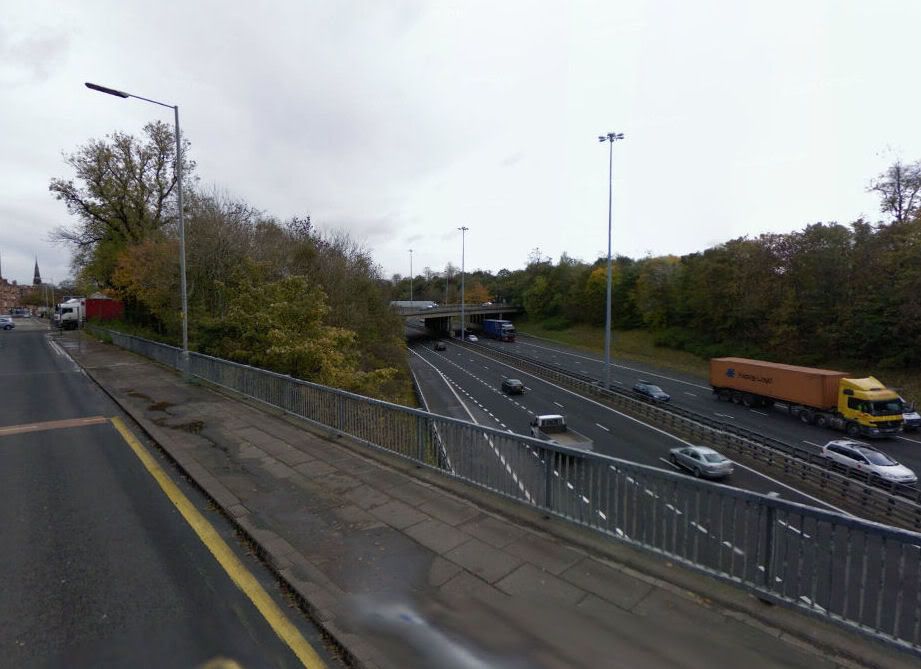 This is something that always puzzles me. When I look over the railing at the traffic racing by below I feel as though I'm crossing the motorway on a flyover but that can't be right!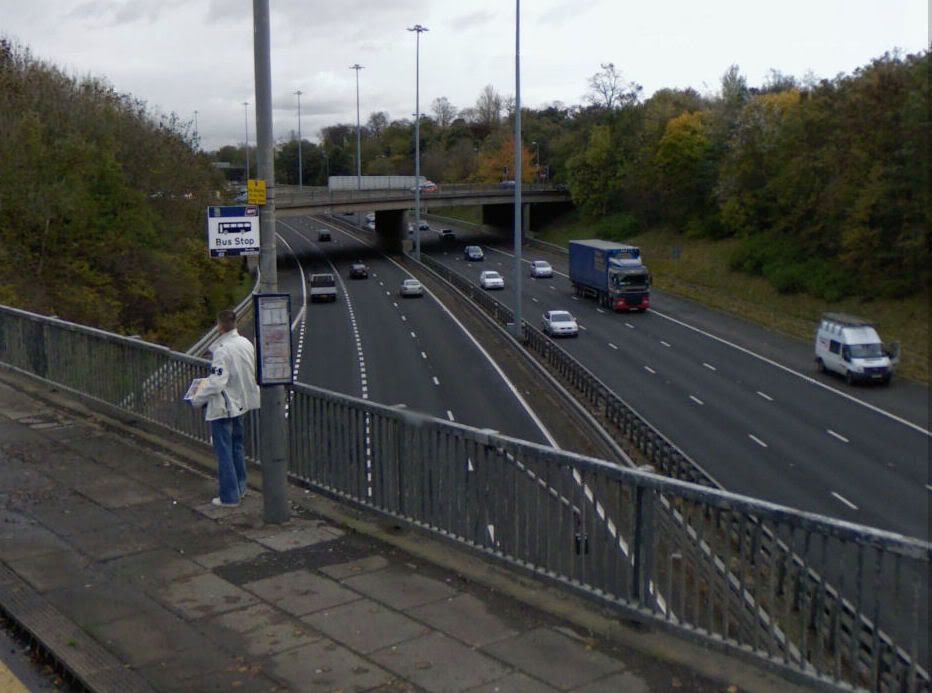 Here we are on the M8 with Paisley Road West above us where I looked down onto the Motorway.





I'm still on Paisley road west! As for the other side of the road it's quite different. It's not open like this side; it's shrouded in trees but it wasn't always like that. The White City Stadium used to be there. Away back in the 40s it was a dog racing track but when I was in my teens it was the home of the Glasgow Tigers (Speedway) I know this for a fact; I went to the Speedway but I can't remember much about it other that the noise of the bikes racing round the track was horrendous.

Govan's White City Speedway.




In 1945, they had re-opened the Gllasgow White City track for speedway.
It was also used as a greyhound stadium and this required covering the dog
tracks with sheets on race nights.

Getting on my way again and still high over the motorway I continue but its only a matter of seconds before everything changes. Instead of the having he busy M8 to my left, I have the Bellahouston park.





I believe that on this side of the park which stretches all the way to Bellahouston drive in Mosspark there are three gates. The first one is only yards away. As I draw near to it I see something that makes my eyes open wide.





Tethered to the railing of the park are two beautiful Clydesdale horses
but that's not all.





In an enclosure a few yards back from the horses is a Highland cow with its calf!





Who'd have believed you'd find coos and cuddies in Bellahouston park! Seconds later two busloads of young children, obviously on an educational trip arrive and are immediately shepherded in to the park. I find this nice and I stop and watch for a minute then leaving the horses with their heads in nose bags and the children clambering round the cows' enclosure, I turn and hugging the park railings I get on my way.





It's now just turned eleven o' clock and although it's not a bad morning, apart from the school outing and a few dog walkers there's nothing much doing in the park. However when reaching the playing fields beside the Palace of Arts I do find some activity. In progress is a hockey match between two teams of men.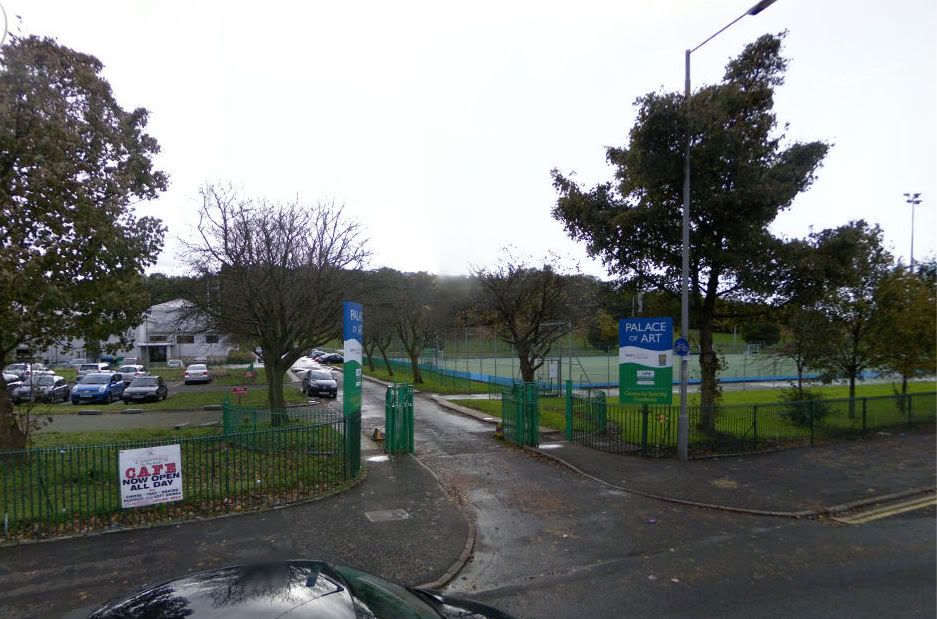 As for the Palace of Arts,





well it doesn't look very busy, there are only three cars in the parking lot, but hey! Look at the weeds! What's happened to the gardeners?

Across the road at the corner of Helen street and Paisley road west is the Divisional Headquarters of the Strathclyde Police.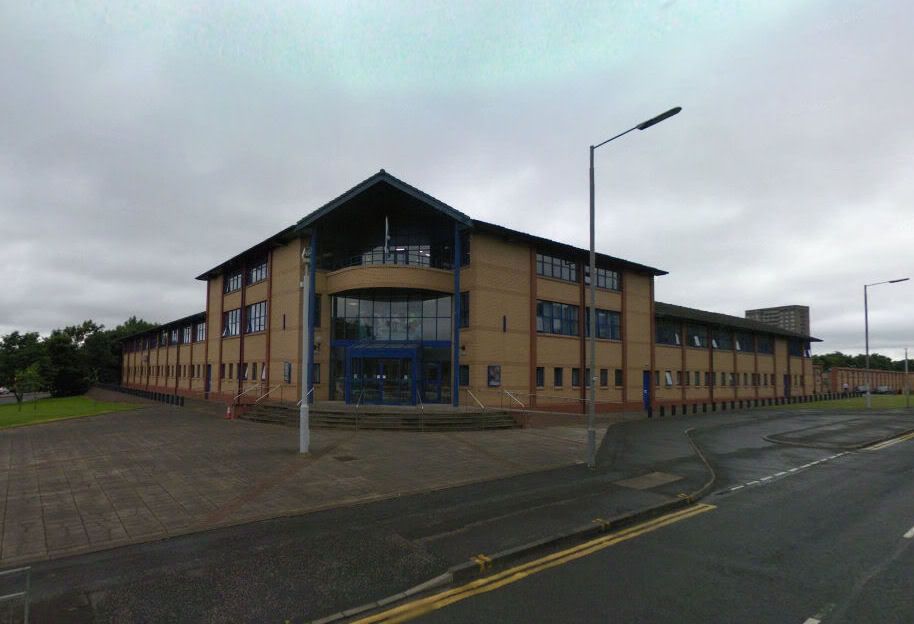 It's huge and takes up a large area of both Helen street and Paisley road west.





Nearby is Minto Street.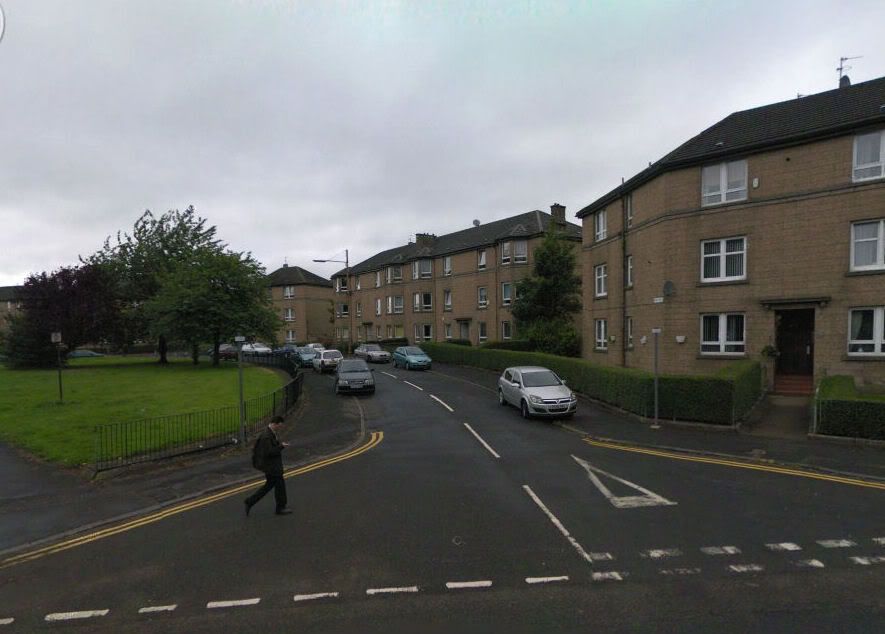 Anne's granny lived in a council house there and sometimes when we were out for a walk we'd go in and see her. Anne's lucky that way. She lived in Cressy street and her tenement building is still standing, so is the house that her granny had lived in.

Cressy street, Govan.





I've now reached the point where Helen street and Paisley road west meet. The traffic has become really busy here but it doesn't affect me. I'm safe and sound walking at the side of the park although that won't be for much longer.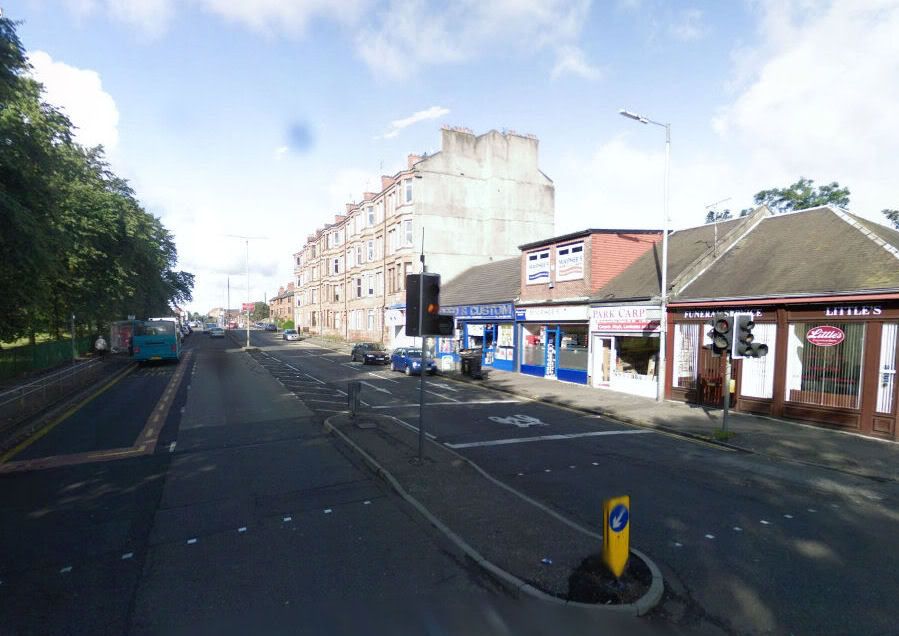 The end of the park t is in sight. However before I get there is something across the road that interests me. It's a café. It's called Mc Phee's. There always was café there but when Anne and I were teenagers it was called The State. Like many cafes in those days it had a jukebox and often on a Sunday night when the weather was bad Anne and I would go in to this Cafe, buy a hot orange and nurse it for as long as we could so we could sit and listen to the juke box. We didn't play any of the records. We were freeloaders!
Really, we were just poor juniors and couldn't afford to blow whole shilling on a song that only lasted three minutes.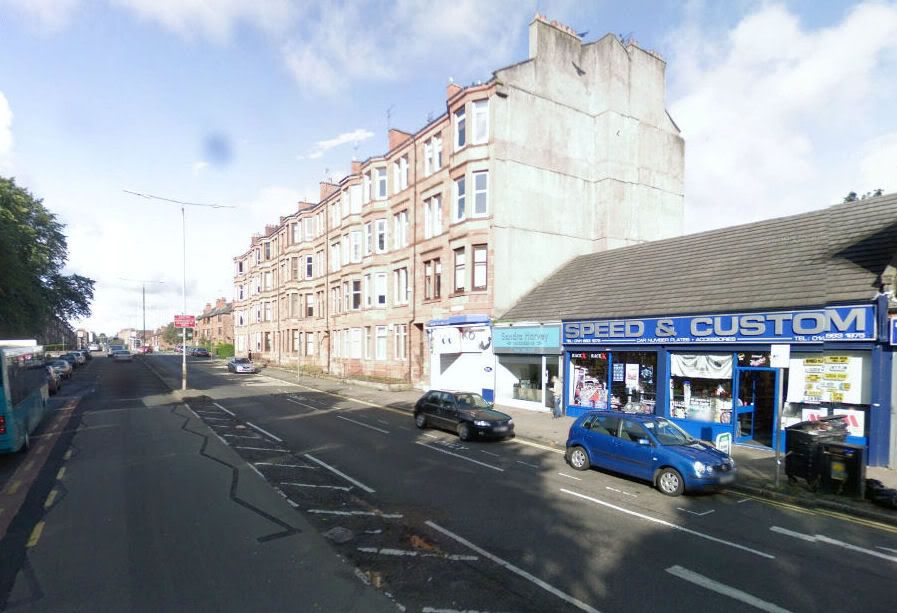 Well that's me! I've reached the end of the park.





Well what do you think of that entrance?





It's lovely isn't it? Well, that's what the entrance was like at the other end of the park. Now getting on my way I cross Bellahouston drive land leave the peace and quiet of the park behind me.

Years ago I never noticed how nice these Corporation houses are on each side of the road but I do now. Even Craigton school to my right matches their colour.





I then come to Corkerhill road then Mosspark Boulevard.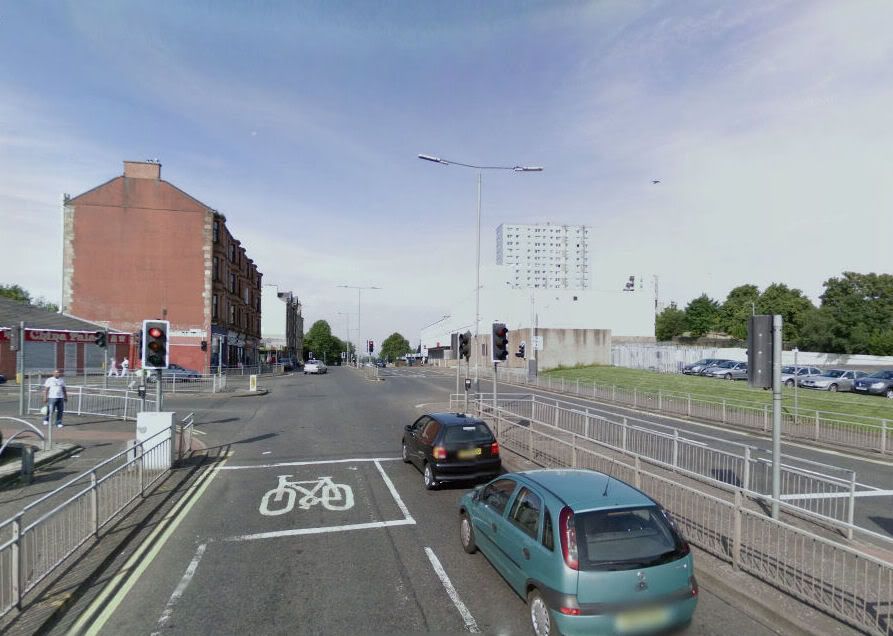 It's here I do something I do every time I'm on this walk.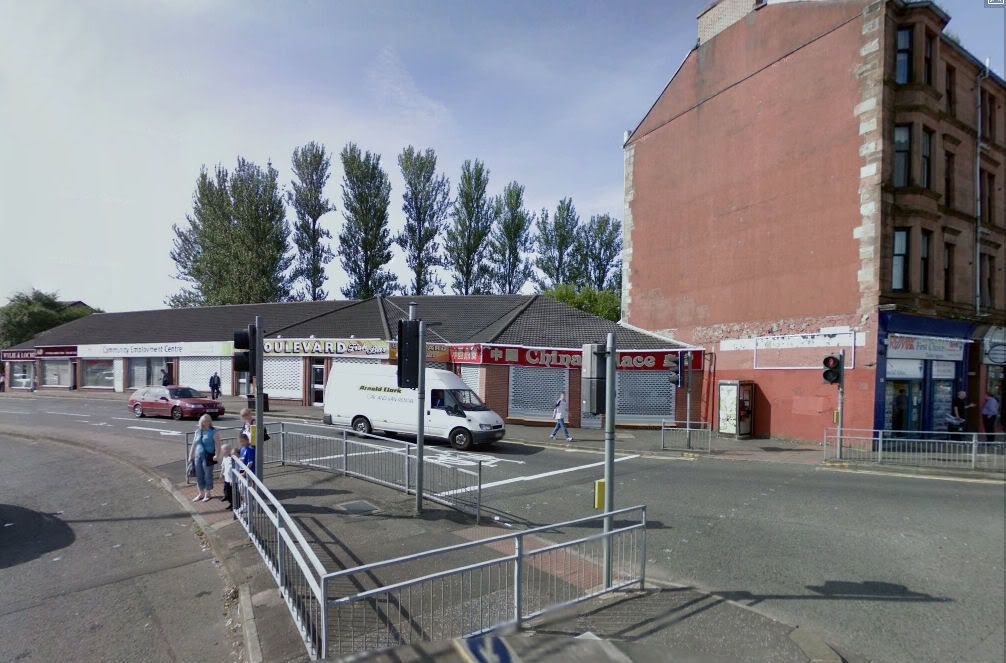 I turn into the boulevard and walk about fifty yards then stop. In front of me behind a railing and a locked gate is a small building and a bag of rubbish! This building may look nothing but without fail when I see it, it always pulls at my heart strings!. Fifty odd years ago, if I remember right it was an I.L.P hall. Today it's notably turned its coat. It's now an office for the Conservative M.S.P.





Even as I approached I remember the frisson of excitement I had going down the two steps in to the hall. This hall, for that's all there was to it, was as basic as you could get but on a Saturday when it became Dewar's dance studio, it was like the Blackpool tower ballroom to me. This was where Anne and I learned to dance. Every Saturday afternoon we'd go there for two hours of ballroom dancing lessons. They cost half a crown but that was alright. If you took the lessons in
the afternoon you got into the dancing at night free!

So every Saturday after we'd had our dance lessons Anne and I would rush home, get our tea, get titivated up then rush back to the dancing. But I couldn't wait to the end, I always had to be in for eleven o'clock. Apart from these magical nights I had at Dewars, there is another reason I'm sentimental about this crappy wee building.

It was here I met my first love, but that's a different story.

Today as always, as I stand outside the hall my mind goes
back to the time when I came here all those years ago.





Of course at that time, I could never see myself getting old! Well here I am, fifty five years later and the strange thing is, I don't feel the slightest bit different! It's only the shell that's changed.

On one of these sentimental visits I saw the door had been left open. I couldn't resist it. It was like a magnet to me. I went in. I couldn't believe it. It was much smaller than I thought. As for the music, well for the dancing lessons it was strict tempo. Today it would be ridiculed but we thought nothing of dancing a quick step to the music of Victor Sylvester, waltzing to Mantovani's 'Charmaine' and tangoing to La Compansita .

However at the dancing at night the music was different. Then we danced to pop music such as Blueberry Hill, This Old House and Johnnie Ray's 'Such a Night', Slim Whitman's China Doll, Rose Marie, Dean' Marti's 'Sway 'and many Ii can't mention. It's not only the memory of my dancing days that draws me here. It's the building itself. It's practically the only thing standing that I was part of my life.

My tenement home is gone, the two schools I went to are gone too so has the church I was married in. As for the cinemas, well there's the Plaza,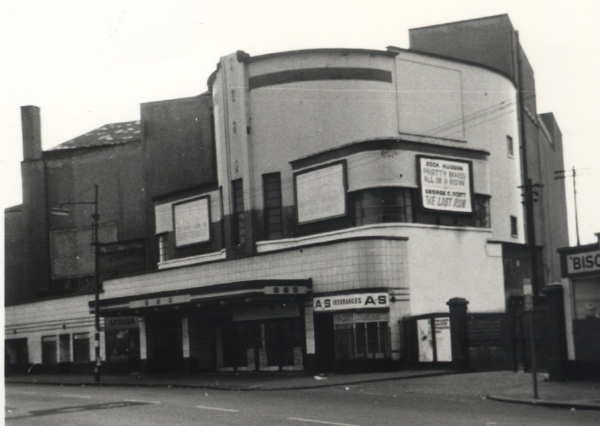 The Lyceum,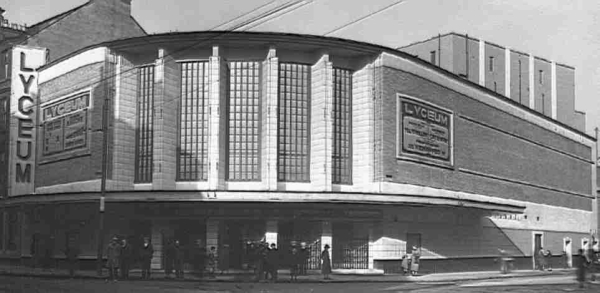 The Vogue,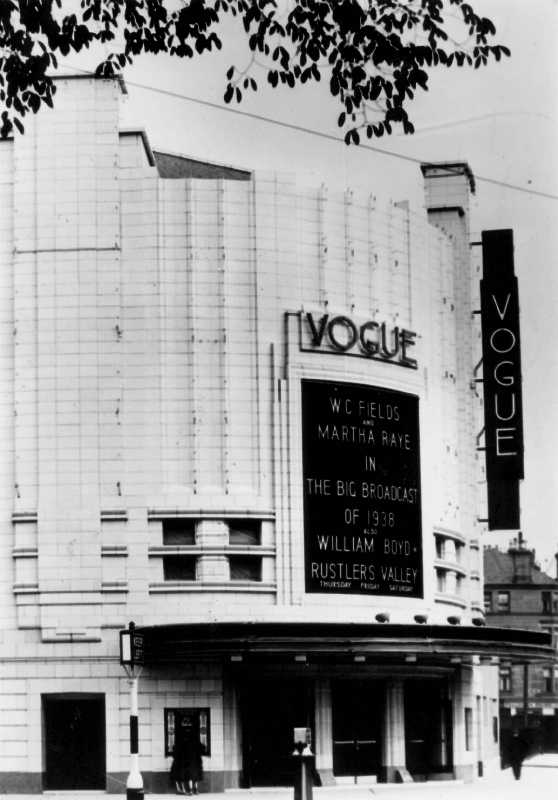 the Capitol and not forgetting the Elder, otherwise known as the Fleapit.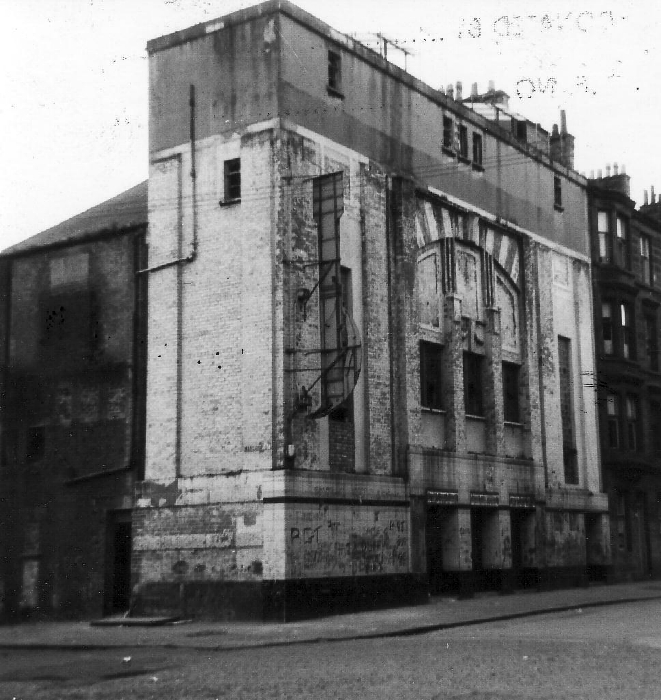 As for dance halls well, there's the Plaza ballroom. (This is where I was taken on my first date) The Berkely, well it was known for dirty old men, these men being about thirty!
Then there's the Albert the Berkley ,the Majestic and lastly the Locarno. It makes me sad for at one time every one of these places played a part in my life.

Now all are gone. That's why this wee building means so much to me. It's the only thing standing that reminds me of the footloose and fancy free years of my life. Another reason I've got a soft spot for this wee building is that it reminds me that I really WAS young once upon a time and I suppose that's as much as I can hope for.

Well, when I set out today I was on a mission. Now I'm going to finish it so retracing my steps I go back to the traffic lights and cross.

Well here I am again back in Paisley road west and am happy to say I'm now well on my way to the Happy Hunting Ground where Anne and I along with dozens of teenagers would talent hunt! It was really quite a simple escapade.

All you did was walk back and forth along a section of Paisley road west in Cardonald. This is only a wild guess but I think 'the walk' started round about here:

Nazereth house




Nazereth house and stretching, passed both rows of shops, then when reaching the quiet residential part of Paisley road west the talent hunters would turn and go back the way they came.





Then do it again and again and again! For me to say that everyone was on a talent hunt was an exaggeration on my part. There was more to this part of Paisley road west than that. Like the Hielan' man's umbrella which was a meeting for the islanders, this was the same. It was meeting place for the young so it didn't really matter if you didn't see anyone you fancied or on the other hand anyone who fancied YOU, it was always somewhere to go on a Sunday night.

Well that's it. This is where my walk down memory lane comes to an end. Years ago when Anne and I would decide to go home, we'd take a tramcar.





We couldn't walk any farther; our feet would be louping! Well today my feet aren't. Older and wiser I'm wearing sensible shoes but I'm not going home yet. There's a Morrison's across the road. I'm going to have my lunch in it.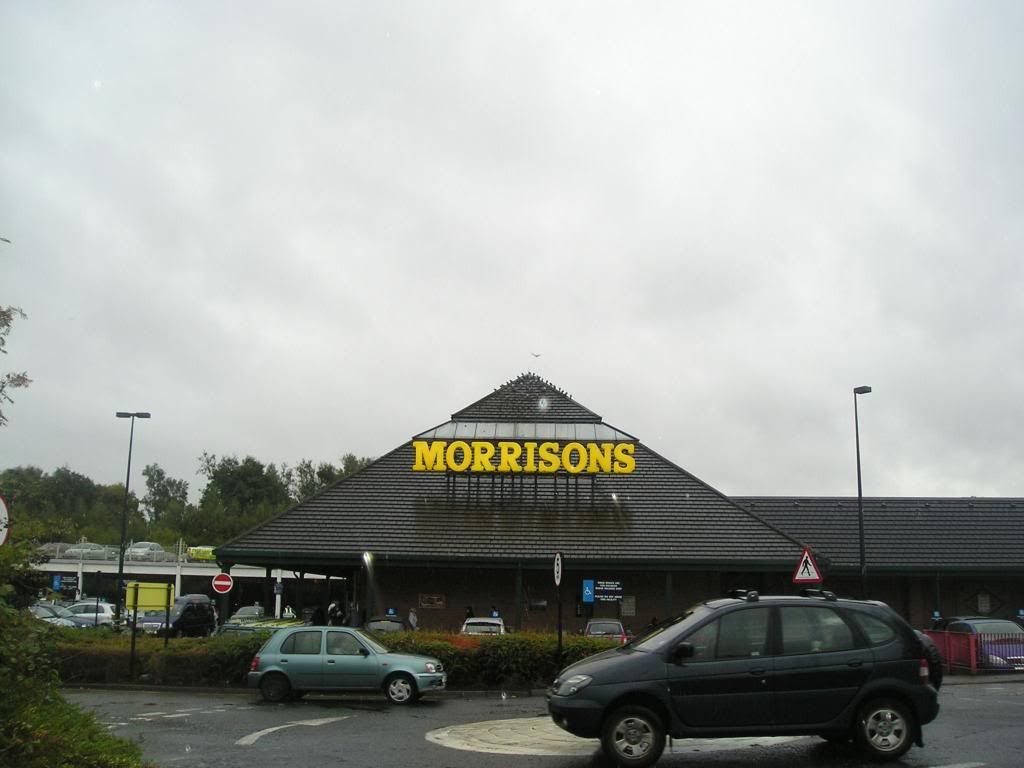 P.S. You may wonder were Anne and I ever successful in getting a click? No we didn't but och that didn't matter, we never saw anyone we fancied! Well..... you can believe that if you like! On these Sunday night parades in Paisley road west , Anne and I never met a prince in Shining amour, but we did meet pals!............. Anyway they're less bother, aren't they?

P.P.S. I'd like to point out that neither of these men in my photo's is my husband. They're just a couple of extras that were standing by!

Mirren.
Last edited by Jimmy (Thu Oct 21 5:48 pm)