Well here we are at Govan Cross and today I will be going to Craigton Road
where my Aunt used to live.

I had to do this again as the old walk got corrupted some how.
I am also going to be taking a bit of a long way round but we will
get up to the very end of Craigton Road as it is today.

I can remember when it was much longer than it is now.
Ok, so let's get started.

Govan Cross.





Not so long ago Govan Cross used to look like this.





And if we turned around to look back up Govan Road we would have seen the
Plaza Cinema where we all went on Saturdays to the ABC Minors "We happy
Girls and Boys"





But before the plaza Cinema we used to have the Govan Cross Cinema. I don't
remember it as I'm not that old!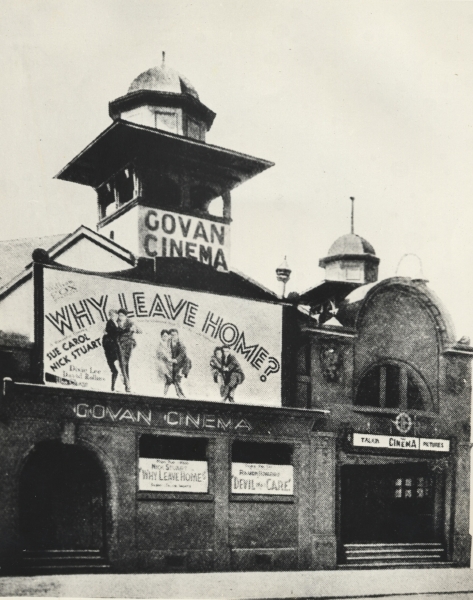 The Govan Cross Cinema was opened in June 1913 by SCVT
as a purpose-built cinema.

The architect was Richard Henderson. Original seating was for 1,209.
It closed in April 1936, and was demolished to make way for the Plaza.

Across the road we would have seen the old Subway Entrance in 1953 but now gone.
Govan Cross Station was then rebuilt in 1953 to incorporate a separate entrance & exit.





Now today it was demolished and replaced by this.





If we turn back and look towards the old Govan Road a picture pops into my mind where
a Policeman used to stop the traffic and allow you to cross the road.





O well enough of that let's get on with my walk to Craigton Road.

On the right I can see what used to be and still is Water Row
but again all has changed here too.





Looking down Water Row paints a different picture today from when I
was a wee boy. I remember it looking like this.





How things have changed.





I remember when there used to be shops and houses all along Govan Road.
When they used to have the old Govan Fair Processions.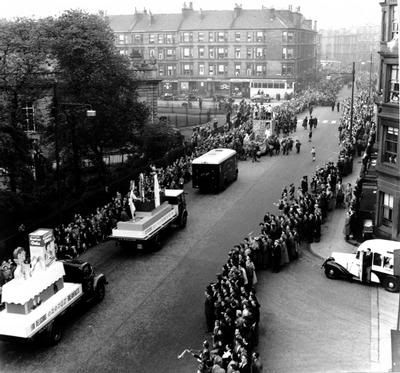 Right up to the Old Lyceum Cinema. But the Lyceum I remember looked more like this.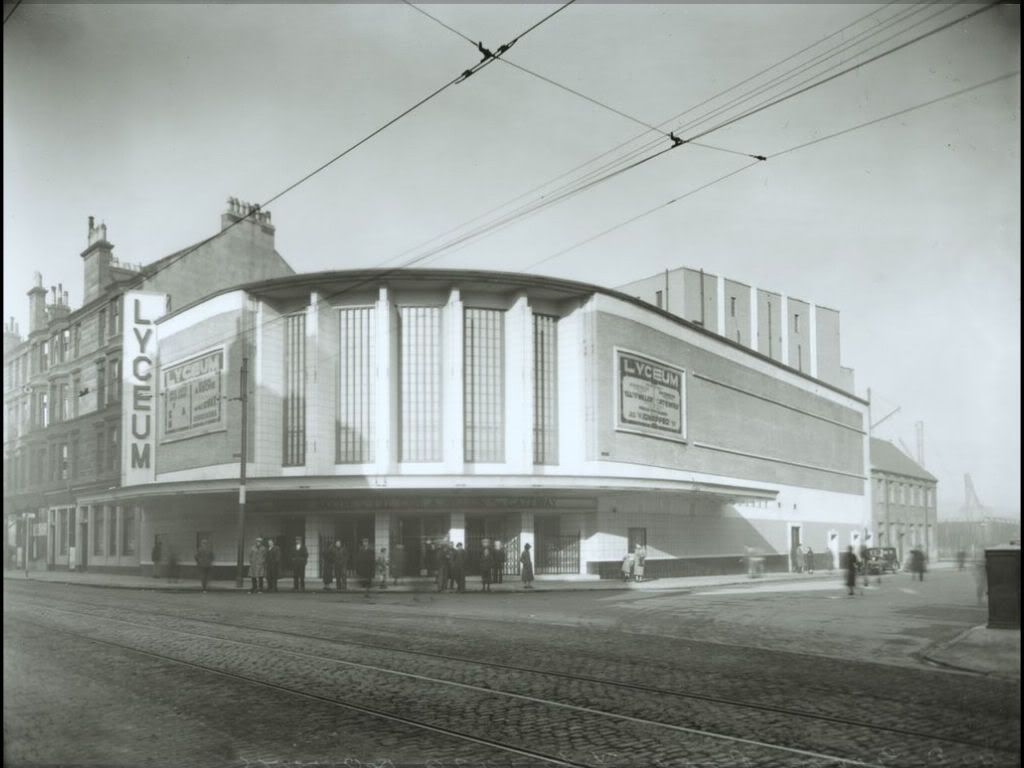 And before that it was like this.





This is a very old photo of Govan Road.





Remember the trams that used to clank there way along
Govan Road? Also sometimes you would see the boys playing
football in the road.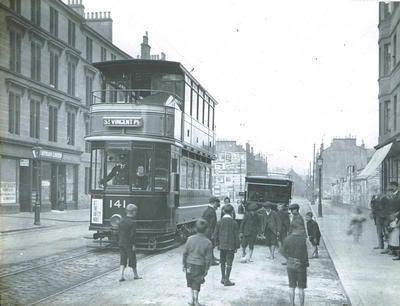 And this is what we get today.





Directly in front of me I see the Black Man and the Brechins Bar,
not much has changed there it still looks much the same.





Turning to the right we can see the Pearce Institute, known to Govanites as "the PI". And as we can see, directly across the street from the Pearce Institute is the statue of Sir William Pearce, known locally as the 'Black Man'.





Carring on with our walk we come to the Brechins Bar, a well known watering hole for Govanites. Came out of here a bit worse for wear once and a while.
Hic!!





As we pass the Brechins on Burleigh Street we come to Harmony Row School. Looking right we can just see the Lyceum Cinema and McKechnie Street. Now a Bingo Hall
where I used to live at number six.





Now left onto Harmony Row.





Past the Barbers and the Govan Care Project.





We come onto Langlands Road. It has changed so much. I can still remember all the shops that used to be on this road, now today, nothing much. I remember it looking like this. Rosneath Street
is the road junction on the left.





Now what we get is this.





Here we are at Rosneath Street so I have decided that I will take this slight detour along here.
I remember I used to come round this way sometimes when I was going to School at Hills Trust.





After my little detour we come out onto Shaw Street where Jacks Rolls used to be. You can see where it used to be on the right just over that vans roof! Jacks rolls... I do miss them
living here in England. But even Jacks Rolls is no more.





We carry on up Shaw Street and come back out onto Langlands Road again. But wait.... It's not Langlands Road now it's Golspie Street. Where did Langlands Road go??





And Past my old primary school, Hills Trust. It used to be across the road from Woolworths but that has gone too. You can just see it on the left of this older picture of Hills Trust.





I have to walk along this path as Langlands Road is no longer here. I need to cross over
to Elder Street. Now, as we know Elder street used to go all the way down to Fairfields Shipyard. Well it still does but somebody chopped it in half and stuck some houses on where the old street used to go. I am getting lost round here now. So much has changed.





Now I am on Elder Street, well, this part of it anyway as now there seems to be two Elder Streets. What have these people done to Govan?





I walk on up Elder Street to the end until I come to a mini round-about.
Another change.





Turn right along Crossloan Road.





I am now at the junction of Crossloan Road and Craigton Road.
Even this is not how I remember it!





I continue up Craigton Road past the Tall Cranes Bar on the right and on
towards Nimmo Drive.





Nimmo Drive.





Passing the post office on the right. I carry on up Craigton Road.





Along past Turners.





On past the Elderpark Workspace.





Right up to Luss Road.




I must have a look down Luss Road with the same houses left and right.





Round to the left is Kilmaurs Street. My Aunty Betty
used to live on here but much further along it.





I come back out onto Craigton Road again and walk towards where my Aunt
Ella used to live. On the corner of Craigton Road and McGregor Street.





Looking at the houses here I see that this one looks like it was
burnt out at some point?





On past the Butchers and on up to McGregor Street corner.





In the distance down McGregor Street I can see something that was not there before.
Where have all the houses gone that was here?





It is a new building of Rowan Business park.
Some of the houses that were on McGregor Street
which are now gone must be under where this business park now is.





I turn round and Look back up McGregor Street towards Craigton Road.





I go across Craighton Road into the other part of McGregor Street, which brings
me to my Aunt Ellas' Entrance on McGregor Street.





You can see where you used to get in up the stairs.





Onward we go and turn into Kilmaurs Street along to where my Aunty Betty
used to lived in a white house.





Looking between the house through the trees you can see the stairs up to Aunt Ellas' house.





Back out again and looking along Craigton Road.





Aunt Ellas' house to the right.





I go on right up to the end of Craigton Road.
I pass Shield Hall Road on the right and Edmunston Drive on the left.
I'm sure it used to go on for much longer. But now it is just a dead end.





I turn round again and I'm going back down Craigton Road.
Back down to Govan Cross again.





I turn right back along Crossloan Road.





And when I keep on going I get back on to Harmony Row again.





Now down Golspie Street past the carpark and the back of
Govan Cross Shopping Centre.





Over to the left you can see where we started this walk
and to the right Govan Cross Subway Station.





Back on to Govan Road again and round to the start of this walk.





Well that's the end of this walk from Govan Cross to Craigton Road.

So much has changed in the name of progress but is it for the better?
I don't know! It is a bit confusing when you find streets chopped in half and
others diverted and reappear further round the road or through some new
built houses.

Need a coffee. Hope you liked the walk?
Have a good day!