My second offering based on the Youth Hostelling experiences with my uncle.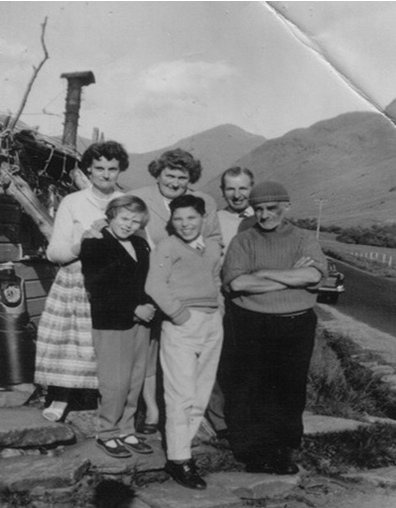 The climb from Arrocher up the `Rest and be Thankful` hill was steep. At various points along the climb you could stop and view the original Rest and be Thankful road which looked even more fearsome for a cyclist than its new replacement. The cycle harriers used the fill as a challenge and in an amazing spirit of togetherness a group went cycling past. Robbie and Derek noticed that the last cyclist to pass was on his own suggesting that possibly one had become detached. Sure enough around a quarter of an hour later a lot of puffing and panting from behind and there was 'Bigsy'. Peter Biggs was a regular friend during the youth hostelling days  and he enjoyed the trips with the Harriers. As he was older than his fellow Harriers he tended to tail off when fearsome hills were encountered.
As he panted up alongside Robbie and Derek; he was sweating profusely; and said
'How fur ahead are they ?'. Derek said 'One Hour !'.  Bigsy smiled and  says ' Aye right. We are going to Inverary tonight. The Youth Hostel will be packed, I hear all the beds are taken'.  Off went Bigsy in his pursuit of the fellow Harriers.  As Robbie and Derek approached the top of the Rest and be Thankful it was yellow capes on as a heavy bout of rain set in.
At the top of the hill there is a wide glen and a few small lochs. The wind was gusting and fierce. Suddenly Derek was flying through the air and as the bike crashed off a fence Derek had leapt high and landed on a moss like section of grass.  A near miss as there were many rocks around the section of grass.
The Rest followed a wide glen for a few miles before a left turn sent it down the valley towards Loch Fyne.  On the way down this glen there was a hut on the right hand side. It was originally a workman's hut to shelter those who worked on the roads and services along the hill. A hermit had taken residence in this hut. He had made a small chimney and burned wood to keep himself warm. There was plenty of running water around and he was provided with food by passing drivers and tourists. Coaches would stop and the Hermit would allow his photo  to be taken with them. A jovial character who liked the loneliness; far from the maddening crowds existence. When Robbie and Derek arrived they gave him some provisions in the form of four packets of Ryvita they had purchased at Ardgarten. The Hermit added the Ryvita packets to the considerable number of Ryvita packets he already had. 
A coach was seen in the distance coming up the 'Rest' from Loch Fyne. Alex put out a few tables with odds bits to sell. The Fairy Man Rocks; The Fairy Man necklaces etc. Also he sold off some of his Ryvita mountain.
He called himself Sandy and it was understood his full name was Alex. Sandy Drummond. He remained at the top of the Rest for a number of years and each summer was a popular person to meet. Always a story; always a greeting and if he was quiet he would share a cup of tea. Most people worried about sandy in the winter in the sub zero temperatures and the road impassable. However each he was as cheerful as ever meeting the early season tourists. Eventually he had to admit defeat and moved after a lot of persuasion to nearby St.Catherine's. The locals made him welcome but he died soon after.