Today I am going for a walk around Govan.

We will start as I always do from my home street, McKechnie Street and
take a wee walk down to Govan Cross, round to Hills Trust then on to the
Elderpark and back home again to McKechnie Street.

Needless to say it has changed quite a bit since I wa a wee boy in Govan.

Ok so let's get started......
Here we are in McKechnie Street next to the Lyceum.





I am going to go round the corner and head towards Govan cross.





Passing the RC Church on Govan road reminds me of when I lived at
6. McKechnie Street, I used to look out our bedroom window and see
all the catholics coming out of the Lyceum Bar and then go straight accross
the road into the catholic church for confession.

Used to make me laugh. (lol)

I carry on past Harmony Row.





And remember where we used to stand when the Govan Fair was on with
our flags waving.

Further on we see the Brechins Bar on the right and the
The Pearce Institute on the left.





Also on our left is the War Memorial. For some reason a lot of people
think the one next to the Brechins Bar is the War Memorial but that's the
Statue of Sir William Pearce, (the Blackman of Govan)





I'm coming up to Govan Cross Shopping centre passing the Black Man
the shopping centre here was not here when I was a wee boy.





This is how it used to look here at the location of the Shopping Centre.





As I walk past the shopping centre looking towards the bank on the left I
can just see the start of Water Row where I used to go down a lot to
catch the Car Ferry accross the Clyde for nothing more than fun.





As I look left down Water Row I don't recognise it anymore, where has
all the old buildings gone? What have they done to Water Row?

The Water Row I remembered used to look like this where the Car Ferry
used to come in.





Now it looks like this:





Looking back up Water Row towards Govan Road again.





Back at Govan Road I turn left to Govan Cross.





Here in front of me is the so-called New Govan Church, It's been there years....




And if I turn round and look back to where I just came from
you can see Govan Cross of today, which is nothing like
the old Govan Cross. There used to be an old market there
on Saturdays I think like this.





Old Govan Cross. This picture was taken from Old Water Row
if you look you can see the old cobbled road.





Now the Govan Cross of today.
I don't half miss my old Govan.




Once again I turn around and head towards the Plaza, or where it used to be.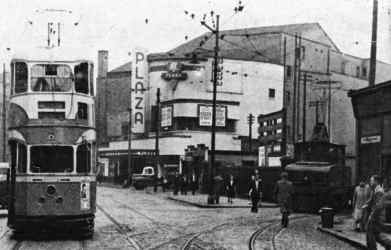 I come upon the new Govan Subway Station.





I remember it looking like this.





But before that it looked like this:





What have we done to Govan? I want to go back to when I was a wee boy
because I don't like it too much now. No character left in it.
I glance behind me again and look back up along Govan Road.





So much has changed!
Up ahead you can see where the Plaza used to be. No more Saturday
Matinees there anymore.





At the junction now with Govan Road and Golspie Street.





So let's go along and see what they have done to Golspie Street now.





Passing the back of the Subway.





We come to Govan Bus Terminus.





I carry on along Golspie Street towards Hills Trust School.





I can see my old School on the left and Shaw Street on the right.
Shaw Street is where Jacks Rolls used to be.





Hills Trust Primary School, or what used to be
Hills Trust Primary School..





This is how I remember Hills Trust School. I also remember the Woolworths
shop across the road from the school. That's gone now too. You can just
see Woolworths far left of the photo.





Passing the Salvation Army building.





I'm Looking towards Fairfields Shipyard. Or at least what used to be Fairfields.




Look at what they have done to that building,
it looks like the chopped a big bit off with a saw
and forgot to finish it! Looks stupid left there
all on its own. Guess it was to keep the Old Govan Bar. (lol)




I again turn and look back along Golspie Street towards Hill Trust.





This is Fairfields Now.





A big change from when I was a boy.





This picture is an even older one of Fairfields Shipyard.





Even well before my time that one.

I walk on up to the Elder Park Gates just to have a quick
look at the park entrance.





Going back down Govan Road again towards the Lyceum Cinema.





Going on down Govan Road.





Passing the old Harmony Bar.





You can just see the Lyceum up ahead.





I used to play snooker in here many moons ago.
I wonder if the snooker Hall is still there?





Didn't this used to be RS Mc Coll's or something like that?
Now it's Giovanni's.





Well that's me back at McKechnie Street again.





Hope you enjoyed the trip round some of Govan?